Otsuru

First Appearence

Anime
episode 29

Profile

Kanji
Unknown
Rōmaji
Unknown
Gender
female
Age
Unknown
Height
Unknown
Weight
Unknown

Dance

Team
N/A
Style
N/A
Active
yes

Voice

Japanese
Unknown
English
Unknown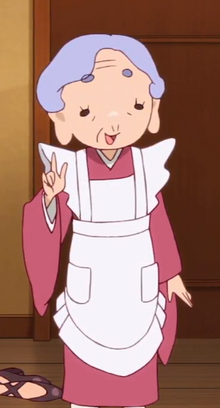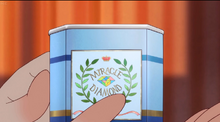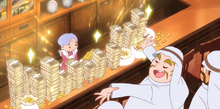 Otsuru is the owner of Takeyama Tea Salon and is said to be the magician of flavoured tea with fans all over the world. There is a legendary tea that she only makes once a year called the Miracle Diamond and that it couldn't be bought with money but she herself has to decides who gets it. The flavour of the tea is like a miraculous scent beckoning from the heaven above.
Appearance
Edit
Otsuru is a small lady with short pale lavender hair and really small eyebrowns- almost dot-like. She has wrinkles and really small black eyes with two visible eyelashes on each.
She wears a white apron over a pink kimono.
Pesonality
Edit
She is a kind and joyful women. She appeared to have hearing problems at first when the robbers told her to hand them the Miracle Diamond and later when she actually went to get the tea, she pressed the emergency alarm button and called for the police, proven to be quite witty.
She also enjoyed Kanon and Yuzuru's dance. So much that she later decided to give Yuzuru the Miracle Diamond herself.
Ad blocker interference detected!
Wikia is a free-to-use site that makes money from advertising. We have a modified experience for viewers using ad blockers

Wikia is not accessible if you've made further modifications. Remove the custom ad blocker rule(s) and the page will load as expected.