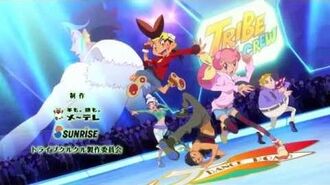 Heartbeat is the first opening and ending of the Tribe Cool Crew anime, performed and composed by
lol
.
The opening has changed 3 times.
The first time is in episode 9, instead of Haneru and Kanon dacing from 0:43 to 0:56, it's the whole Tribe Cool Crew team. It is like that for all the later episode
The second time is in episode 15, added Sakurazaka Hinata and Sakurazaka Manabi in characters show from 1:23 till 1:44.
The third time is in episode 48, added Lui, Moe and Momiji in characters show from 1:23 till 1:44.
Characters
Edit
So far, the characters shown in the opening are:
Rising Stars Cultural Academy's guidance counselor
Ad blocker interference detected!
Wikia is a free-to-use site that makes money from advertising. We have a modified experience for viewers using ad blockers

Wikia is not accessible if you've made further modifications. Remove the custom ad blocker rule(s) and the page will load as expected.