Green Square

Vital statistics

Type
Unknown
Level
Unknown
Location
Kanto
Inhabitants
Unknown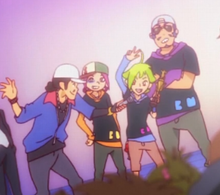 Green Square is the mecca of street dancing. It gets really crowded on Sundays.
It usually hosts many dance contests like the anual Dance Battle fes.
The usual MC of Green Square is MC Ken
Ad blocker interference detected!
Wikia is a free-to-use site that makes money from advertising. We have a modified experience for viewers using ad blockers

Wikia is not accessible if you've made further modifications. Remove the custom ad blocker rule(s) and the page will load as expected.