"The Moves of Spirit!"  
"Tamashī no Mūbu!" (魂のムーブ!) 
Despite having a sprained ankle, Yuji remains determined to fight alongside the rest of his team, who managed to bring out their camaraderie through their dance. However, it is still not enough to beat Gold and Silver's Crowd High. Given encouragement from Lui and Moe, who return to their roots, Tribe Cool Crew aim to inherit Jey's "moves of spirit" and step up to face Gold and Silver, striking back with a dance that beats Crowd High. Meanwhile, as Mabel is rescued, recalling the true meaning of Jey's teachings, Momiji comes face to face with a Jey robot turned rogue.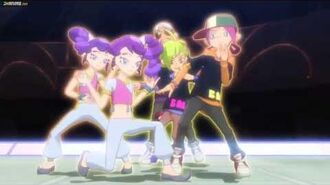 Ad blocker interference detected!
Wikia is a free-to-use site that makes money from advertising. We have a modified experience for viewers using ad blockers

Wikia is not accessible if you've made further modifications. Remove the custom ad blocker rule(s) and the page will load as expected.