"Take a Stand! Blossom Bullets"
"Kekki! Burossamu Barettsu" (決起! ブロッサム・バレッツ) 
As Kanon and Haneru's friends and family miss having them around, Koji and Ayumu bond over their love of seeing their friends dance. Back at the island, Momiji learns of a secret plan that Gallagher is planning while Lui and Moe think back to their original style of dance. Just as Blossom Bullets step up to battle Gold and Silver, Gallagher brings out some robots to prove the effectiveness of Crowd High without the need for any spirit. Undettered, Yuji brings out a seemingly unending dance move, managing to win out against the robots. However, before he is due to fight against Gold and Silver, he appears to incur a foot injury.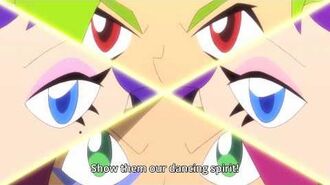 Ad blocker interference detected!
Wikia is a free-to-use site that makes money from advertising. We have a modified experience for viewers using ad blockers

Wikia is not accessible if you've made further modifications. Remove the custom ad blocker rule(s) and the page will load as expected.