"Decisive Battle! Crowd High" 
"Kessen! Kuraudo Hai" (決戦!クラウド・ハイ) 
Gallagher, believing the Jey El Project is simply self-service, takes Mabel hostage and pressures the Dance Road contestants into a dance battle against the Crowd High trendsetters. Just then, Momiji appears, revealing the secrets behind Crowd High, including the adverse effects on the body and mind, though is forced to flee before she can explain what Gallagher is scheming. As Momiji is approached by Hewitt, the dance battle commences, with many of the teams falling under the power of Crowd High. Kumo and Mizuki step up to face Lui and Moe once again, winning against them after the physical toll on Lui and Moe's bodies finally affects them. However, Gallagher then brings out his top trendsetters, Gold and Silver.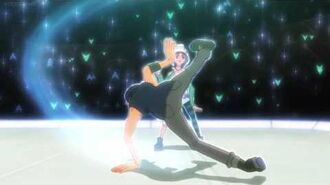 Ad blocker interference detected!
Wikia is a free-to-use site that makes money from advertising. We have a modified experience for viewers using ad blockers

Wikia is not accessible if you've made further modifications. Remove the custom ad blocker rule(s) and the page will load as expected.