"The Fateful Decision! Twins or Croquettes!?" "Unmei no Sentaku! Futago ka Korokke!?" (運命の選択!双子かコロッケ!?) 
Wanting to step up their game, the Sakura sisters invite Explos1ve Machine Guns to practise with them. However, the latter has trouble matching up to the former's flow. Not wanting to continue their joint practise, Sota decides to abstain from his favorite croquettes until the others give up on the idea. After hearing from Haneru about how he teamed up with Kanon, Sota agrees to give it another shot. Finding the Sakura sisters try to rope Kanon into their group, Yuji gets into an argument with Haneru which leads to a dance battle between the two groups, with Explos1ve Machine Guns incorporating some of the moves they learned from the twins. After Team Sakura put on a dance of their own, they decide to keep training with Explos1ve Machine Guns.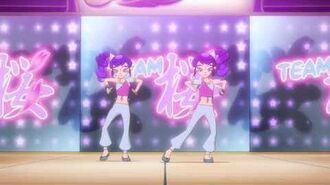 Ad blocker interference detected!
Wikia is a free-to-use site that makes money from advertising. We have a modified experience for viewers using ad blockers

Wikia is not accessible if you've made further modifications. Remove the custom ad blocker rule(s) and the page will load as expected.